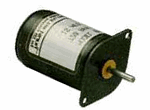 Permanent Magnet DC Stepper Motor Family
Series BAS Direct Drive
Permanent Magnet DC Stepper BAS Direct Drive Specifications:
Step Angle:
18°
Number of Phases:
4 phase bifilar Standard
Lead Wire:
6 leads 24AWG (approx. 12 inches [304.8 mm])
Operation Ambient Temp:
-10°C to +40°C (approx.)
Note: Typical data subject to change without notification
Additional Information:
This small stepping motor has a relatively high torque/inertia ratio. Its design recognizes the demand for small components to fit where space is severely limited.

The BAS series motor is available from stock in 5, 6, 12, and 24 volt models. They have a holding torque of 1.1 ounce-inch [7.8 mN-m]. All have a step angle of 18° or 20 steps per revolution.

Applications are found in a wide range of medical and scientific instruments and robotics. These stepping motors are also recommended for low duty - cycle, battery operated equipment.
BAS Direct Drive Drawings:
BAS Direct Drive Diagrams:
BAS Direct Drive Model Table:
Model
Part
Number
Rated
Torque
@
200 p/s
(oz-in)
Rated
Torque
@
200 p/s
(mN-m)
Rated
Torque
@
4-5 p/s
(oz-in)
Rated
Torque
@
4-5 p/s
(mN-m)
Holding
Torque
2 Phase
Energized
(oz-in)
Holding
Torque
2 Phase
Energized
(mN-m)
Typical
Output
Speed
(RPM)
Nominal
Voltage
(Vdc)
Step
Angle
(deg)
Steps
per
Rev.
Input
Power
(watts)
Full
Load
Temp
Rise
(deg C)
Rotor
Inertia
(gm-cm2)
Rotor
Inertia
(oz-in2)
Winding
Res.
(ohms)
Weight
(oz)
Weight
(grams)
BAS
4202-001
.5
3.5
.5
3.5
1.1
7.77
300
5
18
20
2.5
46
217.7
1.2
20
2.12
60
BAS
4202-002
.5
3.5
.5
3.5
1.1
7.77
300
6
18
20
2.5
46
217.7
1.2
29
2.12
60
BAS
4202-003
.5
3.5
.5
3.5
1.1
7.77
300
12
18
20
2.5
46
217.7
1.2
115
2.12
60
BAS
4202-004
.5
3.5
.5
3.5
1.1
7.77
300
24
18
20
2.5
46
217.7
1.2
461
2.12
60