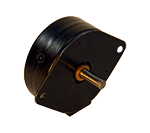 Permanent Magnet DC Stepper Motor Family
Series SCS Direct Drive
Discontinued Motor
, for reference only
Permanent Magnet DC Stepper SCS Direct Drive Specifications:
Step Angle:
7.5°
Steps per Revolution:
48
Position Accuracy:
+/- 5% max.
Number of Phases:
4 phase bifilar
Insulation Class:
Class A (105°C)
Lead Wire:
6 leads 24AWG (approx. 8.5 inches [215.9 mm])
Operation Ambient Temp:
-10°C to +40°C (approx.)
Temperature Rise:
58 °C
Shaft Bearing:
Sleeve Bearings Standard, ball bearings available
Note: Typical data subject to change without notification
Additional Information:
EFFICIENT LOW COST, PERMANENT MAGNET STEPPING MOTORS
Rated torque for standard models is 12.5 oz. in. @ 5 p/s; Hi-Torque models: 16.5 oz. in. Dual sleeve bearings are standard but ball bearings as well as double ended shafts may be specified.
NOTES
1. Standard SCS motors are supplied with 4-phase, bifilar windings (6 lead wires) for 5, 6, 12, 24 VDC operation.
SCS Direct Drive Drawings:
SCS Direct Drive Diagrams:
SCS Direct Drive Model Table:
Model
Part
Number
Rated
Torque
@
4-5 p/s
(oz-in)
Rated
Torque
@
4-5 p/s
(mN-m)
Holding
Torque
2 Phase
Energized
(oz-in)
Holding
Torque
2 Phase
Energized
(mN-m)
Nominal
Voltage
(Vdc)
Input
Power
(watts)
Rotor
Inertia
(gm-cm2)
Rotor
Inertia
(oz-in2)
Winding
Res.
(ohms)
Weight
(oz)
Weight
(grams)
SCS
4403-001
12.5
88.3
18.5
130.6
5
8
53
.29
6.1
11.5
326
SCS
4403-002
12.5
88.3
18.5
130.6
6
8
53
.29
8.8
11.5
326
SCS
4403-003
12.5
88.3
18.5
130.6
12
8
53
.29
35
11.5
326
SCS
4403-004
12.5
88.3
18.5
130.6
24
8
53
.29
140
11.5
326
SCS
4409-003
16.5
116.5
20.5
144.8
12
8
53
.29
35
11.5
326