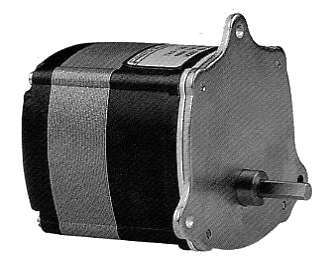 Hysteresis Synchronous Motor Family
Discontinued Motor
, for reference only
Replaced by T Series Motors
T Geared Series
Hysteresis Synchronous GA Specifications:
| | |
| --- | --- |
| Output Speed: | 1 to 300 RPM |
| Torque Range: | Up to 600 oz-in [4237 mN-m] |
| Insulation Class: | Class A (105°C) |
Additional Information:
GA Series motors provide a high torque rating of 600 oz-in [4237 mN-m] at 1 RPM. A choice of 14 different speeds, from 1 RPM to 300 RPM, are available for operation at 115 VAC at 60 Hz. High quality construction throughout assures dependable field performance.
Heavy Duty Gearing
Gear trains for GA motors are rated for loads of up to 600 oz-in [4237 mN-m]. The selection of materials and the design of each gear in the GA Series gear train is based on its position in the reduction sequence. This provides optimum performance for the unique speed and loading of each gear and overall balance of all components in the gear assembly. Models listed are designed for 115V, 60 Hz operation. A capacitor is required for operation.

GA Drawings:
GA Diagrams:
GA Geared Model Table:
Model
Part
Number
Rated
Torque
(oz-in)
Rated
Torque
(mN-m)
Output
Speed
(RPM)
60Hz
Voltage
(Vac)
60Hz
Input
Power
(watts)
Capacitor
Value
(mfd)
Temp.
Rise
Full
Load
(deg C)
Weight
(oz)
Weight
(grams)
GA
992093
600
4237
1
115
10
1.0
50
40
1134
GA
992094
300
2118
2
115
10
1.0
50
40
1134
GA
992110
200
1412
3
115
10
1.0
50
40
1134
GA
992095
150
1059
4
115
10
1.0
50
40
1134
GA
992112
120
847
5
115
10
1.0
50
40
1134
GA
992096
100
706
6
115
10
1.0
50
40
1134
GA
992097
60
423.7
10
115
10
1.0
50
40
1134
GA
992106
33.3
235.4
18
115
10
1.0
50
40
1134
GA
992098
20
141.2
30
115
10
1.0
50
40
1134
GA
992099
10
70.6
60
115
10
1.0
50
40
1134
GA
992108
6
42.4
100
115
10
1.0
50
40
1134
GA
992100
5
35.3
120
115
10
1.0
50
40
1134
GA
992109
4
28.2
150
115
10
1.0
50
40
1134
GA
992105
2
14.1
300
115
10
1.0
50
40
1134